Piano Man
Hi folks! Today I had a nice visit at Sudi's Caribbean Bar&Grille. Natalie and Greg are a lot of fun to be around. I look forward to being back there with Andy Easton when things settle down. The video is 10:50 long and has a bunch of stride piano in it. Enjoy!
Hi everybody. Here is a 9:02 video clip taken this evening with The Ritz and St. John in the background. There was periodic wind so I apologize for that. I hope to do short vids from different parts of the island from the back of the pick up. Until we're back to normal and I'm at Prime and Sudi's again, this is my only gig.
Feel free to help if you'd like at the virtual tip jar:
PAYPAL: www.paypal.me/freddierabuse
VENMO: www.venmo.com/Freddie-Rabuse
Contents: Em medley Amnesia medley (joke) Beatles medley Enjoy the music, stay safe, keep the immune system up.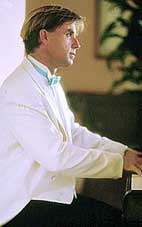 Freddie Rabuse is St. Thomas US Virgin Island's favorite piano man. He is versatile in performing many different styles of music, as a soloist or with a variety of bands.
He is also available for private piano lessons.
We hope you get an opportunity to visit beautiful St. Thomas and get to see Freddie perform. View his current schedule here.

"Freddie Rabuse, he's a monster." Harry Connick , Jr.
ARTICLE IN ST. THOMAS SOURCE "Basketball star, tennis whiz, day trader, businessman - oh yes, and the island's own piano man, Freddie Rabuse has been a leading entertainer on St. Thomas for so long it's hard to think of him as anything but a musician...read more"